How much fruit should I eat each day?
A healthy diet includes two pieces of fruit every day. Okay, well, sometimes it's 1,5. It depends on the fruit's size and weight. ⁠
Because fruit varies in size and weight, there are some considerations.
One medium-sized piece counts as 1 out of the 2. An apple or a banana, for example. And also this pear pictured.⁠
⁠When it comes to larger or smaller fruits, ⁠every 100 grams counts as one piece and half a pomegranate contains about 100 grams of pomegranate seeds.⁠⁠⁠
Are there any additional considerations?
Counting pieces is still an excellent way to balance your diet in various situations. For instance, if you wish to eat apples, bananas, or pears. Each medium-sized piece of these kinds of fruit weighs around 100 grams.
We estimate fruit servings and portion sizes whenever we measure fruit in grams rather than pieces.
People differ in age, size, and nutritional needs. As a result, recommended serving sizes vary. Adults should consume 100 g portions of fruit.
If you are used to eating three servings of fruit each day instead of two, this is also considered a healthy habit for most people.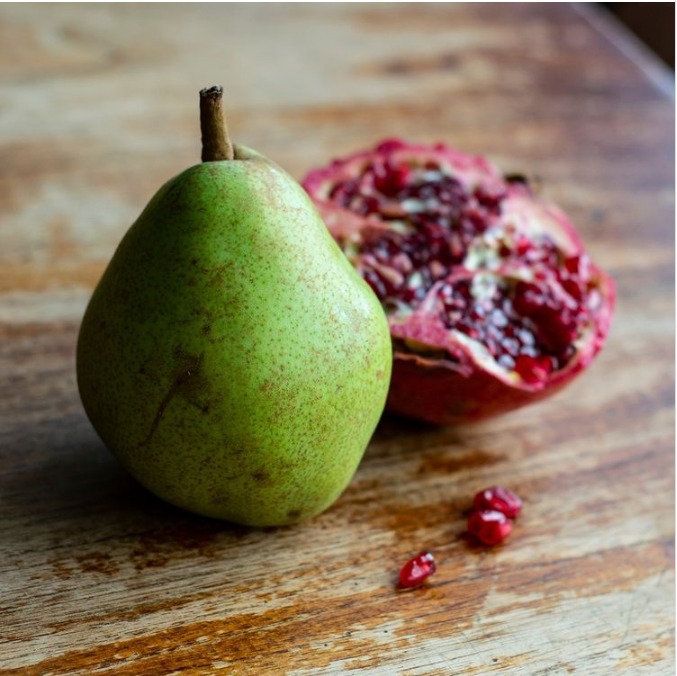 Healthy Eating Campaign: Vitaal Vooruit
This post is part of a campaign to help people improve their diet. You'll learn how to include fruits, vegetables and nuts into your diet to make it healthier. Join online or in-person.
Join Online
New posts will be released weekly on the following social media channels throughout the campaign.
Like and subscribe to these networks to receive updates.
Join In-person/offline
I offer personal nutrition trajectories to help people achieve their own healthy eating goals. I specialise in helping people make science-backed small behavioural changes that lead to results. Find out which approach works best for you.
More about this campaign
Also Read: Video Announcement Vitaal Vooruit Campaign