Running Therapy sessions: Running at a comfortable pace as a therapeutic activity
Core elements of running therapy are the slow pace and also the extra possibilities, such as being able to have a conversation while you run. And a running therapist will guide you through the sessions.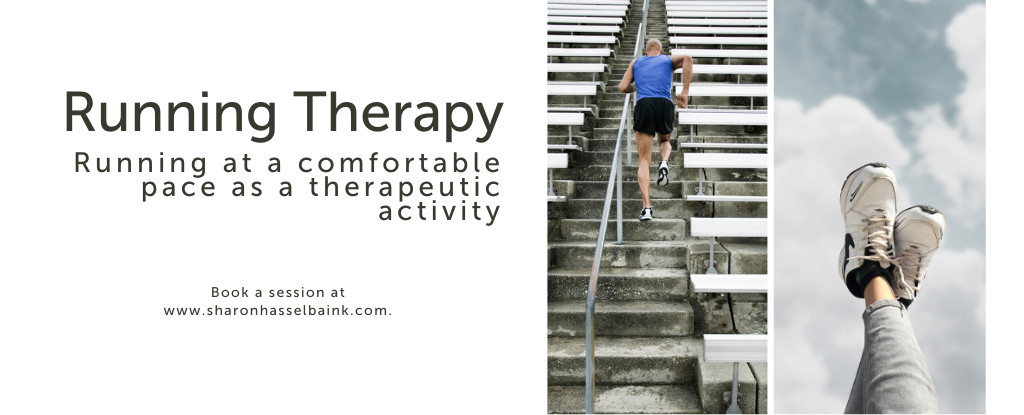 Book a Running Therapy Session or Course
Session

The price of a private session is € 65. And it lasts 60 minutes.
We start after an individual initial evaluation (intake).
Course
A course consists of 12 sessions of running therapy. Each session lasts 60 minutes. The price of a course is € 910.
We start a course after an individual initial evaluation. And after the first running session, you will receive a personalised training plan based on your goals and your running level.
Appointment planner:
https://voedingenpsychologiesh.nutriportal.eu
More about Running Therapy
Comfortable running, like dancing or cycling
There are different ways to run. You can choose, for example, how fast, how long and how far you want to go.
For running therapy, a comfortable pace is used. We switch between running and walking. And the intensity of comfortable running is similar to that of dancing or cycling.
The entire session lasts about an hour. This also includes other important workout components, such as a thorough warm-up and cool-down. And you can build up the distance on a weekly basis, or choose a fixed number of kilometers.
Heart rate and Bodily Signs

Your heart rate is linked to your pace. If you can only give one-word answers while running, your pace and heart rate are too high.
The typical easy pace of running therapy is a pace that doesn't place unnecessary strain on your body.
Goal: The benefits of running

The benefits of running are what we want to achieve by making your heart beat a bit faster and breathe a bit deeper.
The benefits include better blood circulation that results in more oxygen reaching the brain, which may help improve memory and concentration. Running slower also can improve overall fitness.
Have conversations during Running Therapy
At the pace of running therapy, you can have a conversation while you run. However, this is not necessary.
Other possibilities with Running Therapy
Other important elements are included within the training plan of a running therapy session. These elements together form a complete workout. Elements, like a goal for every session, the thorough warm-up and cool-down.
Book your session with the appointment planner via the following link:
https://voedingenpsychologiesh.nutriportal.eu
The appointment planner is also a Health Coach Tool where you can keep track of your measurements, eating, exercise and lifestyle. For yourself and to prepare for your sessions. Create a free account.